Mary and Percy Shelley, famous for their libertarian aspirations and their unconventionality, met by chance and became lovers very quickly. He, poet and baronet, was already married with two children, and she was the young and intelligent daughter of a well-known feminist and an anarchist philosopher.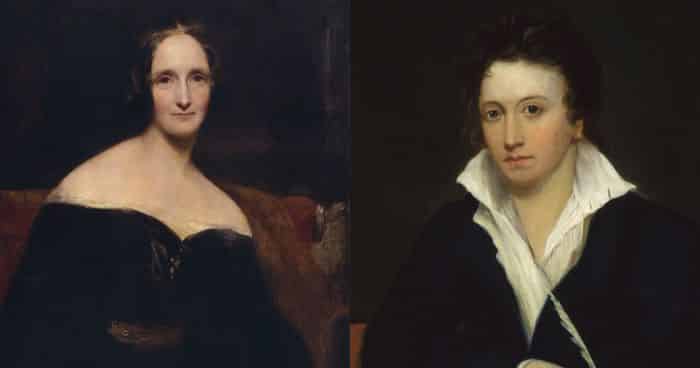 Mary and Percy Shelley
In 1814, they decided to flee London, intolerant of a society in full restoration that did not look favorably on their relationship, the eccentric style of their lives and their political ideas.
They first reached France, then Switzerland, and finally arrived in Italy. After having stayed in Venice, Florence, Pisa and Rome, in 1922, they arrived in Liguria in Lerici. Percy Shelley himself wrote that when he saw the islands of the Ligurian archipelago, Palmaria, Tino and Tinetto from the shore, he was enchanted and wanted to rent Villa Magni on the beach of San Terenzio from where he could enjoy that view. Together with them was Mary's sister, Claire, with Byron's baby girl.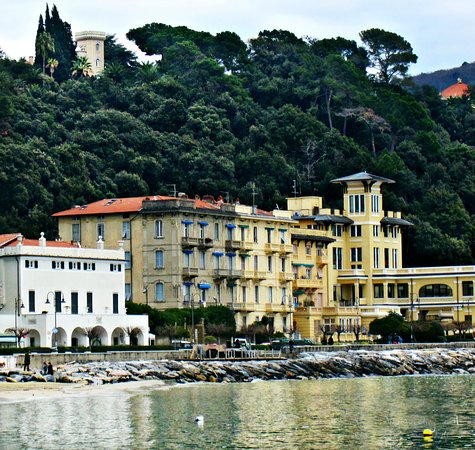 Villa Magni San Terenzo
Italy at the time represented a much-loved destination, not only because it was the land of the sun and the thousand splendid cities of art, but also because it was the place where many different cultures met and where Percy and Mary could enjoy a political freedom which was unthinkable in London. For both, the stay in Italy was very creative from a literary point of view. Percy composed most of his poems there and Mary wrote the novella Matilda, the historical novel Valperga and the two plays Proserpine and Midas. In 1818, she had already written Frankenstein, the work for which she is best known in spite of its vast production, written for fun after the challenge of Byron who, during a stay in Genoa, invited all his friends to write a horror story to read during the evenings together.
During their Italian adventure, Mary lost two children, Clara, who died of dysentery in Venice, and William, who died of malaria in Rome, and was pregnant with her third child, Percy Shelley, who was born in 1819 in Florence. Despite these mournful events in her memories, Mary retained an idea of Italy as a paradise. Years later, back in her homeland, Mary wrote about Lerici: It was too beautiful a place and it did not seem of this land. The remoteness of any trace of civilization, the sea at our feet, its incessant murmuring, everything invited my mind to meditate on strange thoughts and relieving it from everyday life led it to become familiar with the unreal. Some kind of spell surrounded us.
Lerici
In what Sem Benelli called the Gulf of Poets many years later, Mary and Percy wrote, went around in a boat and he went for walks to Villa Marigola. Here, they were also joined by their friend Lord Byron. But their happiness did not last long, as if they had consumed their destiny in passion, in their wandering and writing.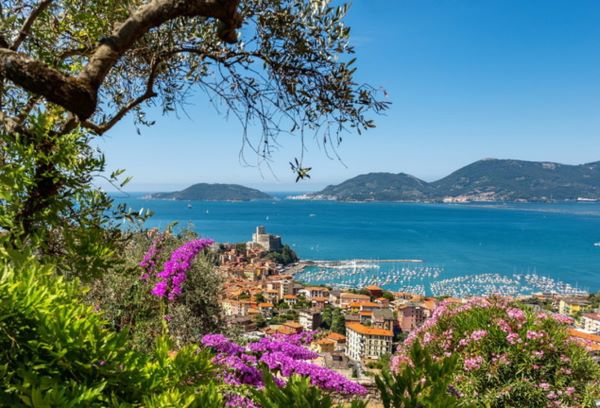 Villa Marigola
Percy was fond of sailing and, in Italy, this interest in him was strengthened even more by the fact that many of the couple's friends were sailors. With one of their dearest, Edward Williams, an adventure lover who had spent several years in India, they planned to build a ship that they could steer on their own, using it at any time and season. A friend of Williams, Captain Daniel Roberts of the Royal Navy, who was building the Bolivar for Byron in the port of Genoa, undertook the project to build their ship as well, with the help of Edward Trelawny, a Shelley admirer who had recently joined the group.
On June 1, 1822, Shelley and Williams set sail with their schooner, Ariel, heading towards Livorno, where they were going to meet Byron and other Italian intellectuals to establish a newspaper, The Liberal. They decided to leave despite the threat of a storm. When Captain Roberts noticed a tornado in the Gulf, he climbed the tower and followed the boat and the maneuvers with his telescope. They had pulled down the second sails when the mist covered his sight. When the storm subsided, the captain went up again to try to spot them, but he didn't see any boats. Mary had to wait ten days before Percy's body was returned to her by the waves on the Viareggio beach. She decided to cremate him, on the same beach where the body was recovered. She and her friends organized the ceremony, burning the body on pine wood and pouring perfumed oils over it, as in the funeral of Misenus described in the Aeneid.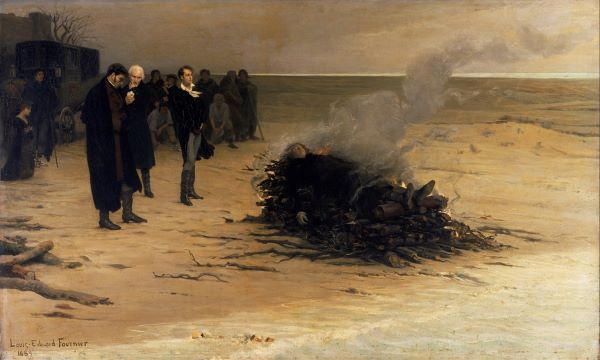 The cremation of Shelley
As the body burned, the chest opened and someone, maybe Trelawny, took Percy's heart to give it to Mary in a wooden box. The woman kept him until the day of her death, and she was buried with him in the Bournemouth Cemetery. The locals were so shocked that they no longer wanted to go to the place where the ceremony took place. At the time, cremation, especially for an unbeliever, was considered by a Catholic in the same way as a pagan rite. Shelley's ashes were then taken to the non-Catholic cemetery of Rome (the cemetery of the English), where Keats was also buried.
Percy Shelley was twenty-nine when he drowned off Viareggio and Mary was only twenty-four when she was left alone with a child. She stayed for another year in Italy, in Genoa, following the advice of Lord Byron and then returned to London, alone and penniless. But to her surprise, she discovered she was famous. Her Frankenstein was represented in the theater with great success and by a famous actor who would take it on tour in the United States the following year.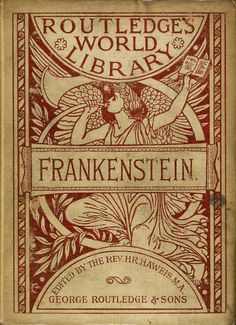 In 1931, Mary finally found her balance again. The editors asked her to reprint Frankenstein again and she decided to write an introductory note. Thanks to her book, her Hideous Progeny, as she jokingly called it, Mary remembered the years of her youth, her travels to Europe and her love for Percy Shelley.