Italy, a country steeped in history, culture, and unparalleled natural beauty, is a treasure trove of experiences. And while cities like Rome, Venice, and Florence are undoubtedly charming, it is in the serene Italian countryside where the country's true heart lies. A day trip from Florence can offer you to experience the rolling hills, lush vineyards, quaint towns, and rustic villas tell a tale that is as captivating as intriguing.
The Italian countryside is a testament to the nation's rich past and vibrant present. It is a place where time seems to stand still, allowing you to soak in the tranquility and majesty of nature. From the picturesque landscapes of Tuscany, the sun-kissed valleys of Umbria the Italian countryside is an enchanting world waiting to be discovered.
The countryside also offers a unique insight into the Italian way of life. Here, you can witness age-old traditions, savor authentic cuisines, and interact with locals who embody the warmth and hospitality that Italy is famous for. Each region, each town has its unique charm, making every visit an unforgettable experience.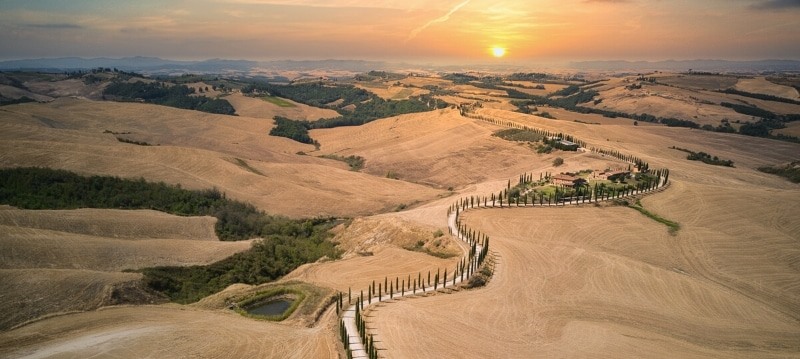 Why take a day trip from Florence
As one of Italy's most historic and culturally rich cities, Florence is a destination that is worthy of exploration. But, if you want to experience a different side of Italy, a day trip from Florence to the countryside is just the ticket. It offers a welcome respite from the urban hustle and bustle, allowing you to immerse yourself in the peacefulness of the Italian rural landscape.
A day trip from Florence offers the chance to see Italy in a new light. It provides a window into the country's rural heritage, showcasing a lifestyle that is as charming as it is simple. The countryside is also home to some of Italy's most iconic landmarks and hidden gems, each telling a story that is unique and fascinating.
Additionally, a day trip from Florence is an excellent opportunity to indulge in Italy's culinary delights. The countryside is known for its farm-to-table cuisine, with local produce, cheeses, wines, and olive oils that are renowned worldwide. Visiting local farms, vineyards, and markets is not only a gastronomic adventure but also a way to understand the country's deep-rooted food culture.
Top destinations for a day trip from Florence
While there are numerous destinations that you can explore on a day trip from Florence, some stand out for their unique attractions and charm. Here are the top five picks that you should consider:
Chiantigiana Road
Orcia Valley
Pienza
San Giminiano
Sammezzano Castle
Details of Each Day Trip
Chiantigiana Road connecting Florence to Siena, is one of the most beautiful driving routes in Italy, passing acre upon acre of vineyards producing the world-famous Chianti Classico DOCG. Chianti has been one of Italy's most important wine-producing regions for more than three centuries.
Val d'Orcia is a wide and beautiful countryside in southern Tuscany, close to the border with Umbria and on the slopes of Mount Amiata, stretching along the agricultural hinterland of Siena. It takes its name from the Orcia River that runs along and is a protected park where the absolute protagonist is stunning nature.
Pienza is considered the ideal city of the Renaissance. It was built on the wishes of Pope Pius II, who was born in this area to parents who were members of a noble Sienese family. Recognized as a Unesco site in 1996, it is a marvelous testimony to the urban standards of the Renaissance: the rational organization of its spaces and the unparalleled perspectives of its 16th-century squares and palaces captivate the visitor's gaze.
San Gimignano lovingly preserves the atmosphere of a fourteenth-century village and the appearance of one of the best examples of urban organisation since the age of the communes, or city-states.
Sammezzano Castle is one of the most mysterious and fascinating places in Tuscany.Built-in the mid-nineteenth century as a monument to oriental art by the Marquis Ferdinando Panciatichi Ximenes d'Aragona, Sammezzano is an incredible mix of Arabesque elements inspired by the Alhambra in Granada, Masonic, and even Indian symbols: majestic arches, finely inlaid walls, arabesques, themed rooms and a breathtaking assortment of patterns and colors.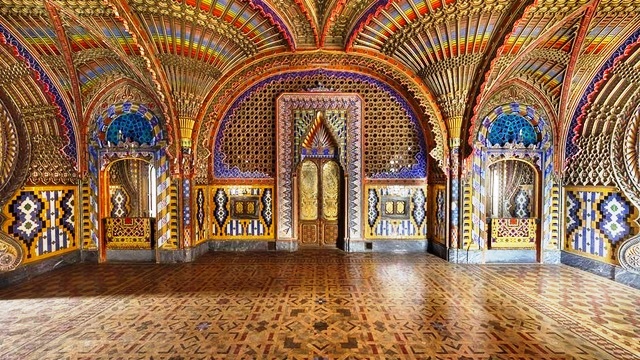 How to plan your day trip from Florence
The best way to explore the surroundings of Florence is to organize a self-guided tour with Italy Trails. The concept of a self-drive tour with Italy Trails is simple. After planning your trip with Italy Trails travel designers, you will be in control of your trip, with the flexibility to choose your route, where you want to stop, and how long you wish to stay.
Italy Trails is one of the most important Italian tour operators focused on self-drive travel in Italy, booking a trip with Italy Trails will allow you to be completely independent in your Italian experience, but also best advised on your trip.
With a self-drive tour you will be free to explore the surroundings of Florence, but this does not mean you are on your own. Upon your arrival you will receive a smartphone from Italy trails with all the necessary information about your itinerary for your trip and through this smartphone, you will be able to chat for assistance for any doubt or eventuality. So although you won't have a guide physically present, you have the necessary tools and support to navigate your way through the surroundings of Florence.
What to Pack for a day trip from Florence
Packing for a day trip from Florence largely depends on the time of year and your planned activities. However, some essentials are always worth packing. Comfortable walking shoes are a must, considering the amount of walking and exploring you'll likely be doing.
Carry a lightweight jacket or shawl, as the weather can change quickly in the countryside. Sunscreen, a hat, and sunglasses are crucial to protect yourself from the sun. Don't forget your camera to capture stunning landscapes and memorable moments.
If you plan to visit vineyards or farms, consider packing a picnic lunch. Many of these places offer picnic spots where you can enjoy a meal amidst nature. Finally, remember to carry some cash as not all places accept credit cards.
Unique experiences on a day trip from Florence
A day trip from Florence to the Italian countryside offers numerous unique experiences. You can partake in a cooking class in a rustic farmhouse, learn about the art of wine-making in a vineyard, or take a leisurely bike ride through the stunning landscapes.
Try your hand at truffle hunting in the forests of Tuscany or explore the charming streets of a medieval town. The possibilities are endless, making every day trip a unique adventure.
Tips and tricks for an enjoyable day trip from Florence
To ensure your day trip from Florence is enjoyable, consider these tips and tricks. Start your day early to make the most of your time. Prioritize the attractions you want to see and plan your route accordingly. Dress comfortably and appropriately for the weather and planned activities. When visiting religious sites, remember to respect local customs and dress codes. Stay hydrated and carry some snacks for energy boosts throughout the day.
Lastly, be open to new experiences. Whether it's trying a local dish, engaging with locals, or exploring a hidden gem, every experience adds richness to your day trip.
Conclusion: Making the most of your day trip from Florence
A day trip from Florence to the Italian countryside is a journey into the heart of Italy. It offers an authentic glimpse into the country's rich heritage, stunning landscapes, delicious cuisine, and warm hospitality. With careful planning, the right mindset, and an adventurous spirit, you can make the most of your day trip and create memories that will last a lifetime. Whether you're a seasoned traveler or a first-time visitor, the Italian countryside promises an experience that is truly unforgettable.